Kathleen Agnew (1880-1967), a.k.a Kay Agnew, was a friend of Jennie Butchart.
Kathleen Agnew's full name was Martha Clara Agnew but she used "Kathleen" throughout her life. Close friends knew her as "Kay" Agnew.
In 1962 she recorded a tape of her recollections of Jennie Butchart for Imbert Orchard (1909-1991). That tape is now in the B.C. Archives and is one of the primary research sources on the later life of Jennie Butchart.
From 1912 to 1950 Kathleen Agnew lived at 1322 Rockland Avenue, which is now on the Victoria Heritage Registry.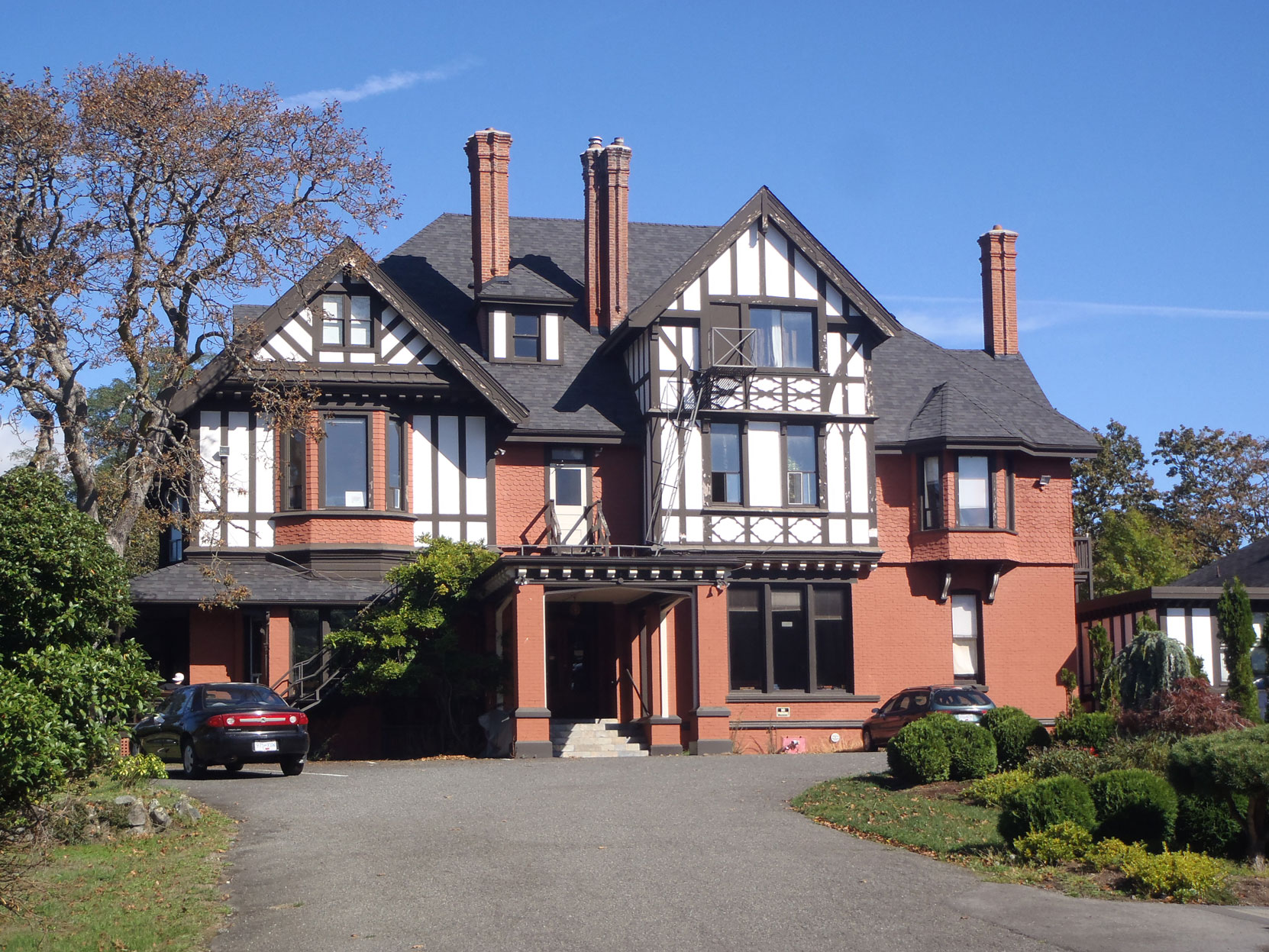 On its web page about 1322 Rockland Avenue, the Victoria Heritage Foundation says the following about Kathleen Agnew:
"1912-50: William Agnew (b. Co. Down, IRL 1848-1922) and Emma Johnson (née Waterous, 1849-1917: William hired Samuel Maclure to design her tombstone) retired from Montreal to Victoria in 1912. William was a wholesale silk importer. He came to Canada in 1856 and lived in Ontario, where they married. Their only son, Augustus Waterous Agnew (b. Montreal 1884-1916) was a civil engineer and in the militia for six years when he signed up at 21 for WWI in 1915. He was a Major with the 3rd Battalion, Canadian Pioneers when he was killed in the Battle of the Somme in France in September 1916. He is buried in Contay British Cemetery on the road to Amiens. Their daughter Martha Clara "Kathleen" (b. Montreal 1880-1967) remained in the house. Educated in Germany and France, she was fluent in both languages. Kathleen was a noted philanthropist, and was named Victoria's Good Citizen in 1957. She was a patron of the arts, and supported the YWCA, YMCA, Girl Guides and Boy Scouts. She willed her entire library to the University of Victoria, and many paintings to the Art Gallery of Greater Victoria (1040 Moss St, Rockland).
1950-2004: Kathleen donated Schuhuum to the Anglican Church as the Caroline Macklem Home for Anglican Women. It closed in 1999. Controversy ensued when the so-called Baron George von Bothmer zu Schwegerhoff, aka George C. Davis, signed a 99-year lease with the Anglican Church Women's Society for $1 a year in 2000. An out-of-court settlement was reached, the Baron left Canada and the house was sold in 2004."
Here is Kay Agnew's obituary in the Daily Colonist:
"AGNEW – At the residence, 205-[illegible] Vancouver Street, Miss Kathleen Agnew, daughter of the late William and Emma Agnew, a pioneer resident of Victoria. Survived by a nephew, Augustus W. Agnew [illegible] California, and a niece, Mrs. Philip E. (Patricia A.) Moore, Bellevue, Wash.
Funeral service Tuesday at 10 a.m. in Christ Church Cathedral, Very Rev. Dean Brian Whitlow, D.D., officiating. Interment in Ross Bay Cemetery. Flowers gratefully declined. Those desiring may donate to a favourite local organization. HAYWARD'S FUNERAL CHAPEL in charge of arrangements."
(Source: Daily Colonist, 25 June 1967, page 32)
Kay Agnew is buried in the Agnew family grave in Ross Bay Cemetery, Victoria, BC. The Agnew grave was designed in 1912 by architect Samuel Maclure (1860-1929), who designed several additions to Benvenuto as well as other buildings at Butchart Gardens.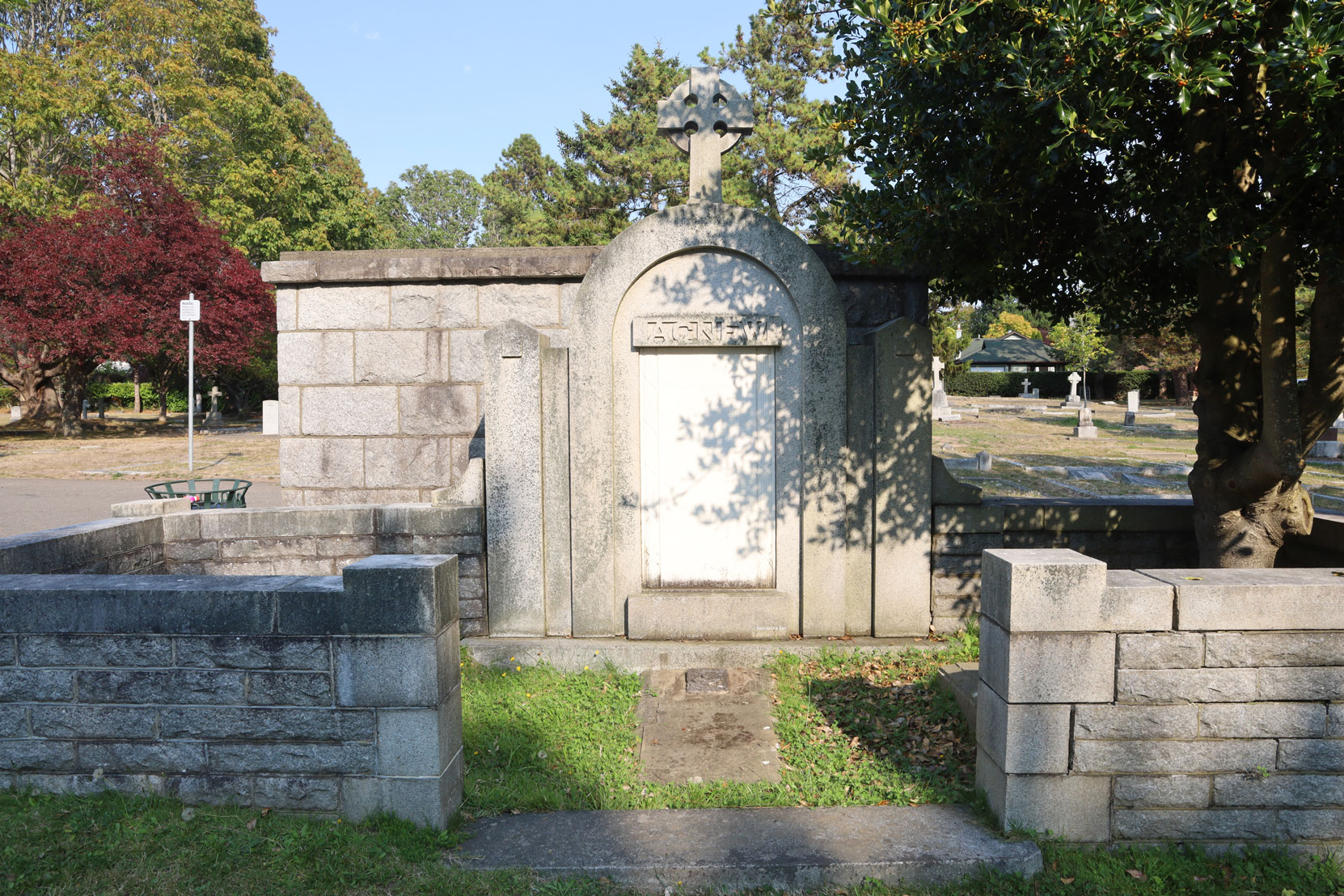 Would you like to leave a comment or question about anything on this page?