George "Rebel" Mowat (died September 1968, full name: George Neilson Mowat) was a sightseeing tour bus driver for Gray Line of Victoria who regularly drove sightseeing trips to Butchart Gardens for several decades.
By all contemporary accounts, he was Jennie Butchart's favorite tour bus driver.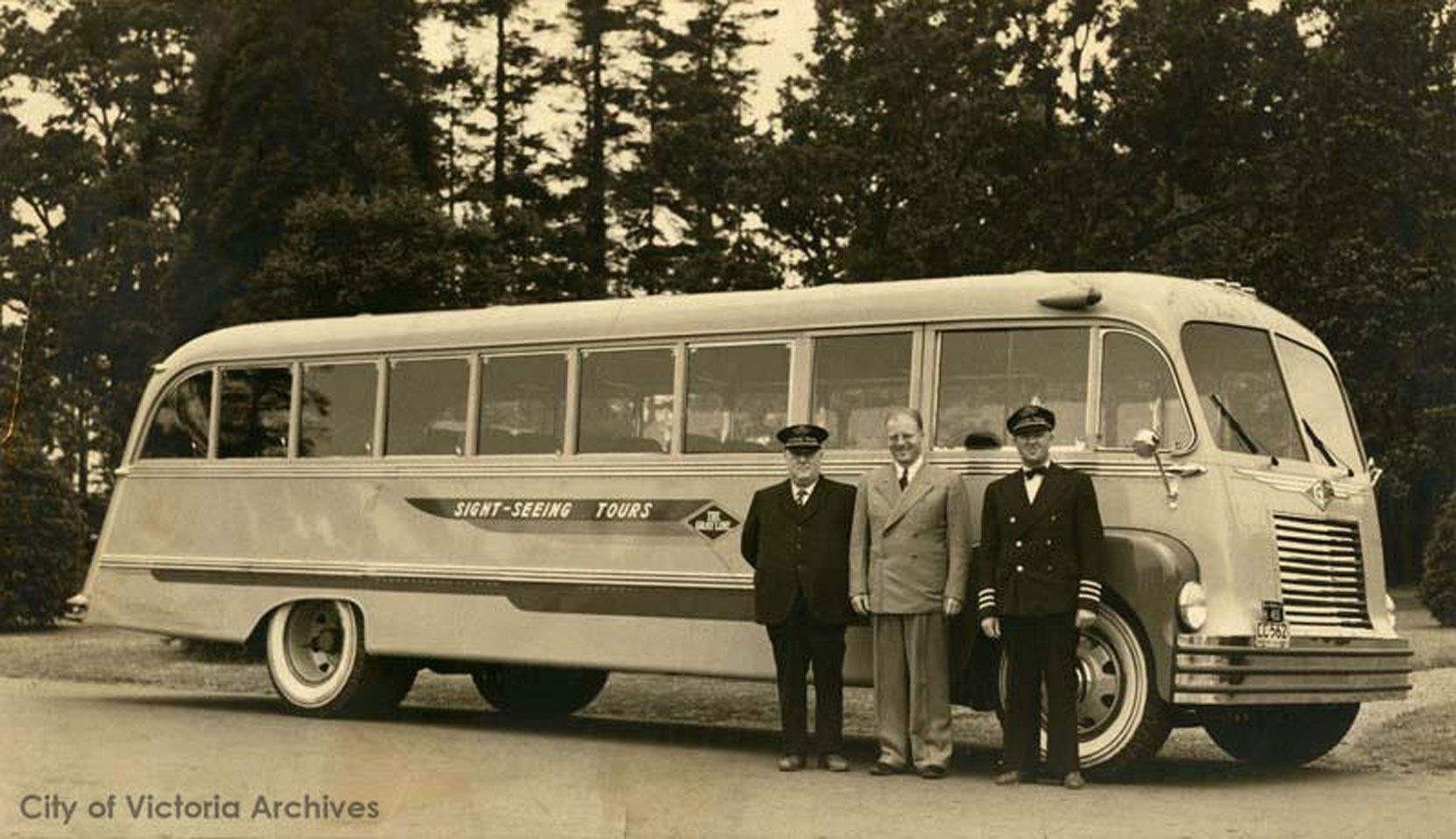 He became friendly with Jennie Butchart and his stories of Jennie Butchart and the Butchart Gardens were widely quoted in magazine and newspaper articles, including a 15 September 1952 article in Macleans magazine, entitled Mrs. Butchart's Famous Gardens, which has since been used a primary source by many subsequent writers and researchers.
In 1962 he recorded a tape of his recollections of Jennie Butchart and the Butchart Gardens for Imbert Orchard. That tape recording is now in the BC Archives and has been a primary source for researchers. Unfortunately, much of George Mowat's historical information must be treated carefully. While Rebel Mowat was an excellent raconteur and was undoubtedly a very popular tour guide, much of the historical information he provided about Robert Butchart and the history of the Butchart's cement business is demonstrably incorrect.
George "Rebel" Mowat died in September 1968 during a trip to Ireland. The Editor of the Daily Colonist wrote this obituary:
"Rebel Mowat
GEORGE "REBEL" MOWAT, one of Victoria's greatest goodwill ambassadors, died Sunday half a world away from the city he loved, but it would not be correct to say he died away from his friends. For people were Rebel's lifelong concern, and everywhere there were people he had friends.
As a bus driver on scenic tours here for nearly fifty years, Rebel talked to literally tens of thousands of visitors and tourists and left them with a vivid appreciation of the history and beauties of Victoria, along with a genuine admiration for his own unique character. No newsboy was too humble, no cabinet minister too great to be admitted into Rebel's genial camaraderie while to become a partner in his bluff, humorous sallies was an honor long recalled. A decade after encountering him, tourist would return to remember and to be remembered. Rebel had a capacity for humanity that was a rich treasure in a world to often lacking it. He let no man be an Island.
The world tour which had been the culminating triumph of his career had been halted unfinished in an Irish hospital, and this community feels a collective loss in Rebel's sudden death. His qualities of simplicity, genuineness and compassion were of a high order. He was a diamond in the rough, and the roughness itself became a solid virtue, an engaging part of the man. We have lost a good citizen who cannot be replaced."
(Source: Daily Colonist, 24 September 1968, page 4)
Would you like to leave a comment or question about anything on this post?