Joseph Wriglesworth
Please note that this page is still UNDER CONSTRUCTION.
Joseph Wriglesworth was the first owner of the Tod Inlet limestone bearing land on which Butchart Gardens now stands who has a direct connection to Robert Butchart and the Vancouver Portland Cement Company.
In 1886 Joseph Wriglesworth purchased much of the land at Tod Inlet that is now the Butchart Gardens. He continued the limestone quarrying operations that were already in place at Tod Inlet and, in 1887, he started business as a "Lime Dealer" with a store at the south east corner of Yates Street and Blanshard Street in downtown Victoria.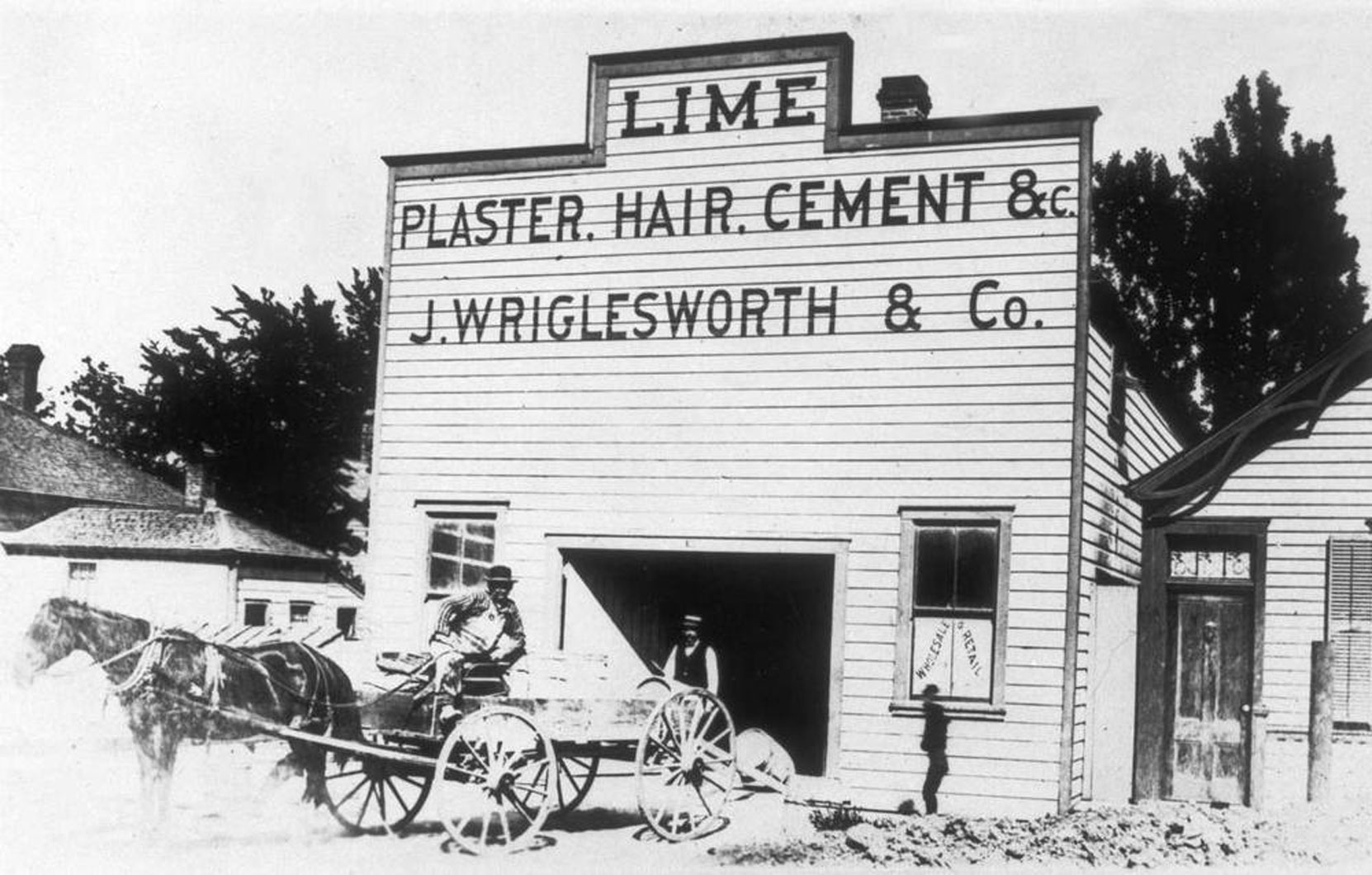 In 1890 Joseph Wriglesworth formed the Saanich Lime Company with Peter Fernie and William Fernie. The Saanich Lime Company intended to develop a cement manufacturing operation at Tod Inlet but was unsuccessful in its attempts to do so.
In the 1890's Joseph Wriglesworth appears to have replaced this "Lime Dealer" business with a new building that housed his Retreat Saloon, again on the southeast corner of the Yates Street and Blanshard Street intersection in downtown Victoria.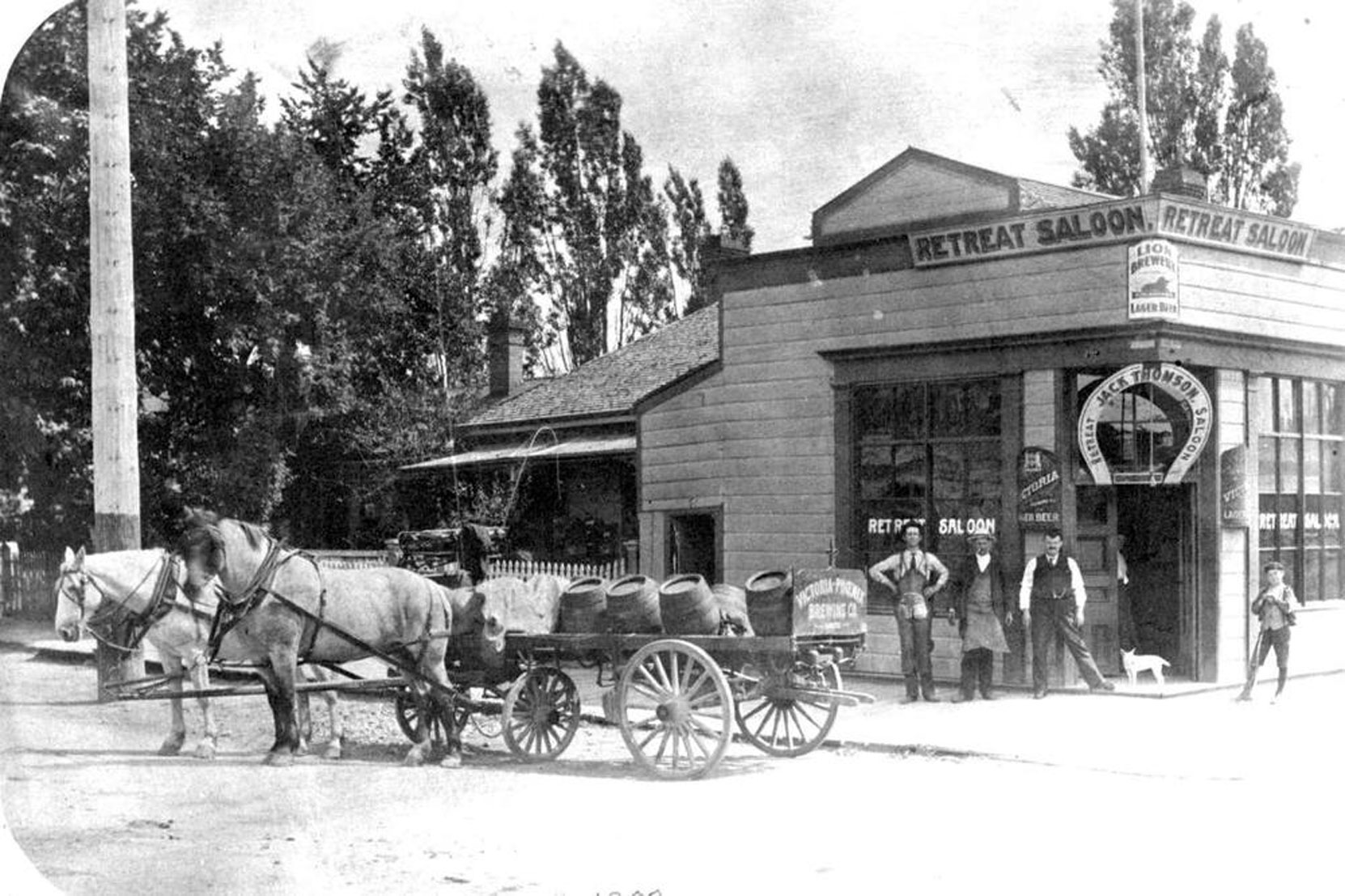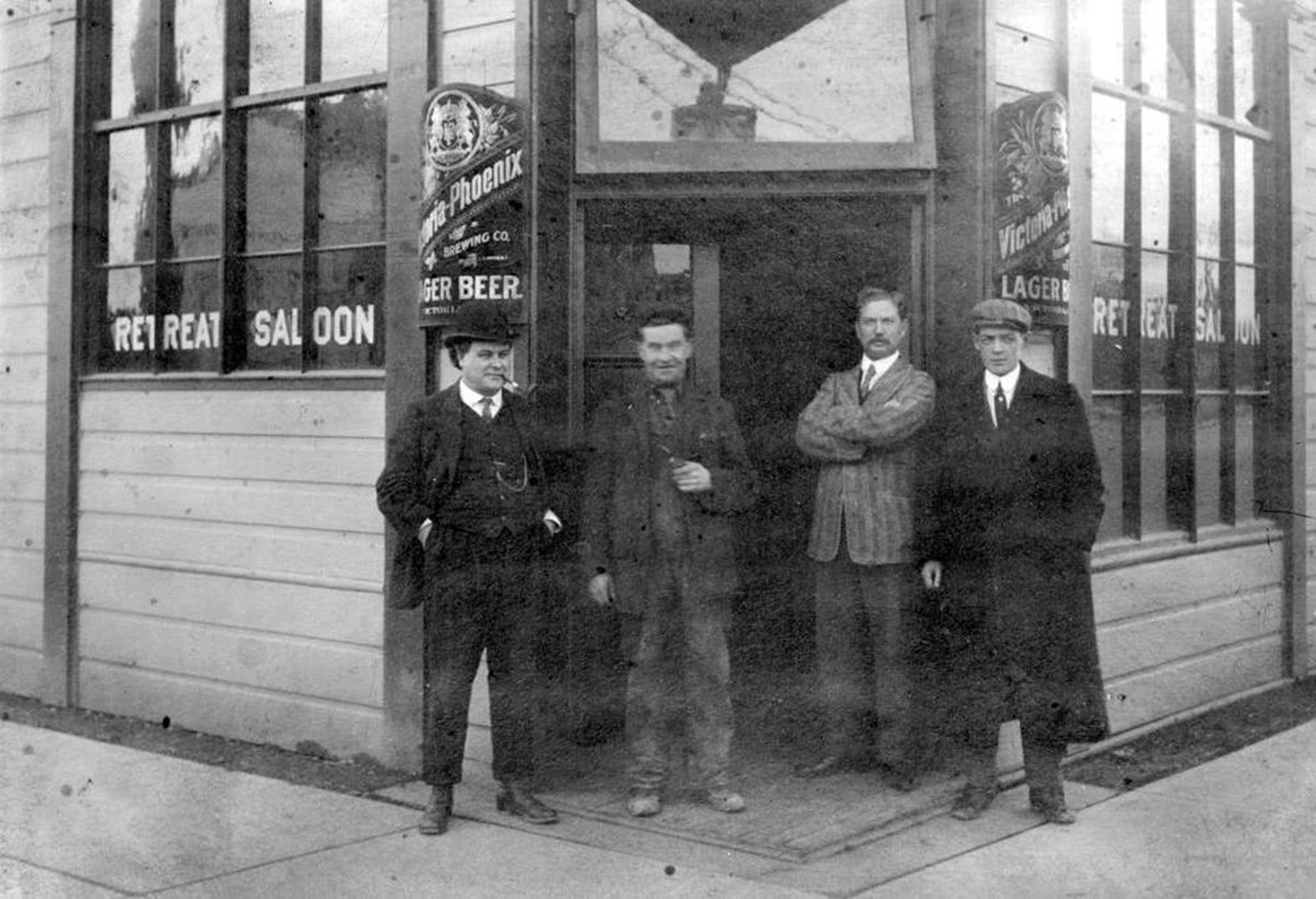 Here is a 1930 newspaper interview with Joseph Wriglesworth:
"WATER DIVINER NOW NINETY YEARS OF AGE
Joseph Wriglesworth Tells of Early Days In Victoria –
Has "Divined" Many Wells On Island
One of Victoria's oldest residents,  J. Wrlglesworth, celebrated his ninetieth birthday on Saturday. Born in England, at Grimstone, near York. on September 13, 1840, Mr. Wriglesworth came via Panama to Victoria in 1862, when Victoria was little more than a village, a few muddy streets and cattle trails. He built a hotel at the comer of Johnson and Broad Streets, which he later sold, and moved to Sidney Island, where he hoped to make a fortune farming. But his hopes were never realized and he returned to Victoria, He served four years on the City Council and eighteen years in the volunteer fire department, retiring after holding the office of chief engineer.
"We worked hard in those days," Mr, Wrlglesworth said. in speaking of his experiences with the fire department. "We had to find our clothes, pay dues and also pay fines if we missed a meeting or a fire. There were three fire companies in those days, the Hook and Ladder, on Government Street, below Fort; the Tiger, at the corner of Johnson and Government Streets, and the Deluge on Yates Street. There were no engines, of course, and horses were too expensive, so we had to pull the hoses and reels by hand. I've pulled that thing as far as where Government House now stands," he recalled.
A HOT FIRE
One of the hottest fires was the old Colonial Hotel. We were called up in the middle of the night, and in the dark I put on a new suit of clothes, the first thing I could lay my hands on. I only discovered my mistake next day, when I looked at myself. Of course, clothes weren't as expensive as they are .today, but all the same, they were my best."
For fifty-seven years Mr. Wrlglesworth has been a member of the Oddfellows and a prominent Forester. He had four sons and two daughters, and his wife was Miss Sarah Allatt, of Victoria, whom he married in 1878. Two sons. Charles and William, and a daughter, Mrs. Rhodes, live in Victoria; Edward in Vancouver, and a daughter also lives in California,
Mr. Wriglesworth possesses the remarkable gift of water divining, and on Monday drove out to Otter Point, where he located two wells. Years ago, an old Cariboo miner showed him the art, and to his surprise he found that he, too, could I make the willow bend. By constant practice he is now a past master at divining, and he attributes his gift, laughingly, to the fact that he was born at midnight "I'm a bit of a witch," he says.
It has been argued, Mr. Wrlglesworth says, that water may only be located by the use of a willow. This he has proved to be untrue, for he keeps three pieces of steel wire for the purpose. These are bent into the shape of a V, the extremities turned slightly outward for convenience in handling. While chatting in his sitting-room, he held the wire, and immediately it turned down, with such force that he could hardly hold it. "You see, there's a spring under this house," he explained. By using the brass wire he can detect if there is rock underground, for the wire reacts in the opposite direction, in this case, turning upwards. If a coin is placed between the leaves of book and others piled round it, he is able to detect the metal at once.
A THOUSAND WELLS
Mr. Wrlglesworth has divined water for more than 1,000 wells, and has never yet made a mistake. In many instances his power has been the means of saving large sums of money for individuals or for companies. He has found the springs from between four to 400 feet below the surface, and his magic wand will detect the course of a stream.
"If I knew someone who'd carry on this work, I could tell them many ways of improving the art," he said, "for as the years have gone on, I've learned so much about it simply through experience." A large number of the farmers and residents of the Island owe their water supply sources to Mr. Wrlglesworth's findings.
One of his earlier interests was a lime kiln at Tod Inlet. He sent a sample of rock to England to be tested to cement, and urged Victoria men to develop an industry there. But they did not, and It was left for Eastern business men to realize the importance of what has subsequently become a great industry. [Emphasis added]"
(Source: Daily Colonist, 14 September 1930, page 7)
Here are links to some historic photographs of Joseph Wriglesworth:
Joseph Wriglesworth is buried in Ross Bay Cemetery, Victoria, B.C.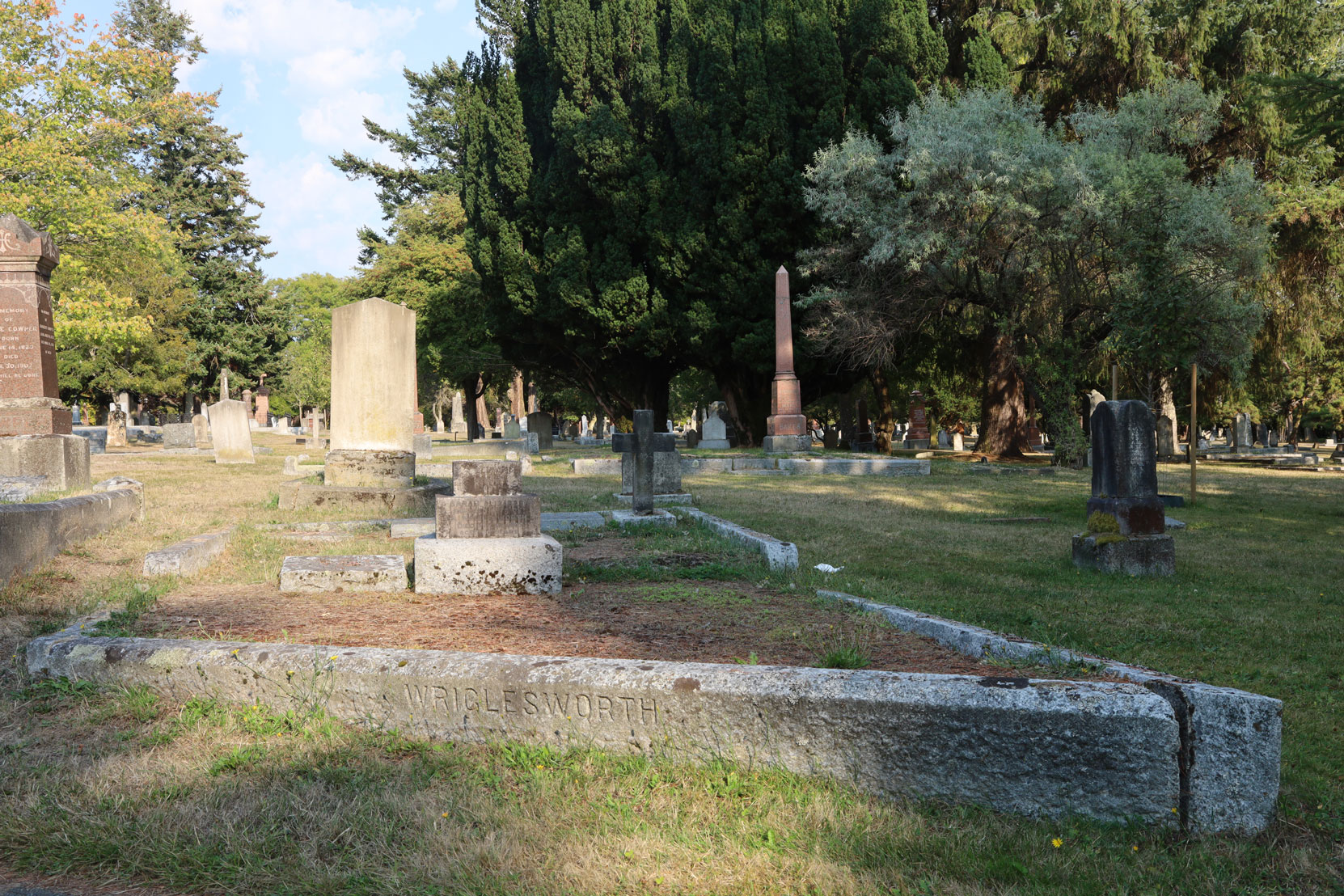 Would you like to leave a comment or question about anything on this page?